VA Loan - Home Loan Options for Veterans
Home loan options for Active Military, Veteran, Reservist or National Guard.

If you're Active Military, a Veteran, Reservist or National Guard member, you may be eligible for a VA Home loan from PNC.
Ready to Apply?

Provide preliminary information to start the pre-approval or loan process.
Let's Talk
Discuss your preferences with a loan officer.
We're a Trusted Partner
You can feel confident choosing us as your financial partner for this important milestone in your life.
Whether you need a mortgage pre-approval[1] or help after the closing, we're available online, on the phone or face-to-face in your neighborhood branch. Here's what you can expect from us:
Pre-approval Services – So you can house hunt with confidence knowing how much you can afford.
Online Application Support — Home Insight® Tracker lets you track and update your application, through every step of the approval process.
Service After the Closing – We're with you every step of the way. We service most of our customers' home mortgage loans.
Facts & Figures
If you're Active Military, a Veteran, Reservist or National Guard member, you may be eligible for a VA Home loan from PNC.
Fixed and adjustable rate terms are available
Little to no down payment is required down payment is required
Fixed loan terms range between 15 and 30 years
Guaranteed by the Department of Veterans Affairs
No private mortgage insurance required (VA Funding Fee is required)
Costs & Fees
Typically these fees range from 3% - 5% of the loan amount.
Home Insight® Planner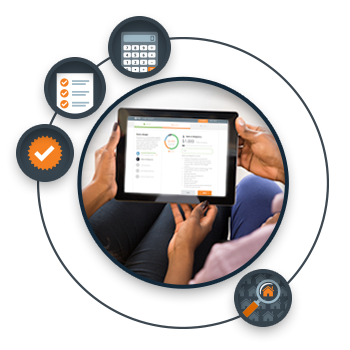 Set your budget. Search for homes. See real time rates.
Create a household profile to generate home affordability scenarios
View finances and adjust categorized expenses to find payment budget
Connect budgets, rates, products, and homes to understand what you can afford
Search for homes within your budget
Save homes you want as part of your home summary
I served in the military, how do I know if I am eligible for this loan?
The length of your service or service commitment and/or duty status may determine your eligibility. Speak to a PNC mortgage professional to verify your eligibility.
What will my rate be?
Your rate is calculated based on a variety of factors, including credit qualifications, loan-to-value, loan amount and other criteria, but VA market rates will generally be lower than a Conventional rate mortgage.
How much can I borrow?
There are few factors that determine how much you will be qualified to borrow: credit history, Debt-to-Income Ratio and Loan-to-Value/ down payment.
Credit History

Specific credit requirements vary based on a range of criteria including loan-to-value, debt-to-income ratios, previous credit history, and assets used to qualify for the loan, but in general successful applicants will have average or better credit history.

Debt-to-Income Ratio

Specific debt-to-income requirements vary based on a range of criteria including loan-to-value ratio, assets used to qualify for the loan and credit score but typically a successful applicant will have a debt-to-income ratio (including the proposed loan payment) below 41%.

Loan-to-Value Ratio /
Down Payment

VA Loans can be used to buy a home with little to no down payment.
How is my rate determined?
Your rate is calculated based on a variety of factors, including credit qualifications, loan-to-value, loan amount and other criteria.
Financial Basics

Credit Score Basics
When you buy or refinance, your credit score is one of the first things a lender looks at. It helps them determine if you qualify for a loan, and what interest rate they can offer you.
Factors that affect your Credit Score:
Length of Credit History
Amounts Owed
Payment History
New Credit
Types of Credit Used
Derogatory Credit
Your credit score reflects how reliable you are as a buyer, and is determined by your track record of borrowing and repaying banks, credit card companies and other lenders.

---
Factors that Determine Your Rate
Lenders start with the par rate, then look at your risk profile to determine what rate they will offer you.
Rates are usually based on a combination of the following factors:
Down Payment
Loan terms
Loan to Value Ratio (The percentage of the lesser of the sales price/appraised property value that is borrowed from a bank or lender. A down payment of 20% would create a loan-to-value of 80%).
Points
Loan Product
---

Escrow Basics
Escrow Payment – That portion of a mortgagor's monthly payments held by a lender or servicer in an account to pay taxes, hazard insurance, mortgage insurance, lease payments, and other items as they become due. Also called impounds or reserves in some states.
An Escrow Account on your loan allows PNC Mortgage to make payments for certain bills related to your property, such as real estate property taxes, homeowners insurance, flood and other property related insurance, and mortgage insurance. Home buyers are generally required to have an escrow account until a certain loan to value ratio is met.
Escrow Analysis – The periodic examination of escrow accounts to determine if current monthly deposits will provide sufficient funds to pay taxes, insurance, and other bills when due.
Your annual Escrow Analysis Statement contains all the information you need to understand your previous and projected mortgage payments.

Getting Pre-Approved
Learn how this simple step could help you get the home you want.
Getting Pre-Approved[1]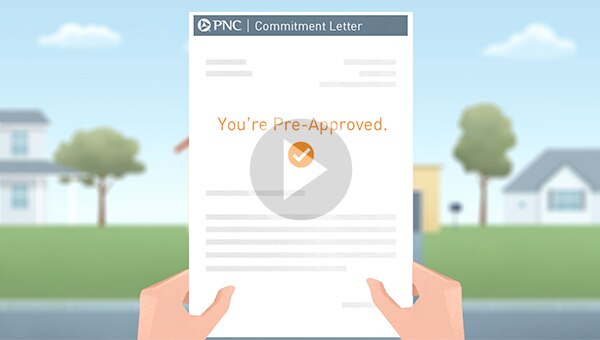 House hunting? Getting pre-approved[1] by a mortgage lender can be a smart move, because you'll:
Know in advance exactly how much you can borrow, so you won't waste time looking at out-of-reach properties
Be able to better estimate monthly mortgage payment and budget around it
Show real estate agents and sellers that you're serious – giving yourself an advantage over other buyers
You can often get a commitment letter from your lender in as little as 48 hours, once your paperwork is complete.
Mortgage Application Checklist
Mortgage Application Checklist
Use this list to gather what you need to apply for a home loan.
To apply for a home loan, you'll need to provide information about your income, assets and debts, plus any circumstances that may impact your ability to repay.
Be prepared to provide some or all of the items below:
INCOME VERIFICATION
Pay stubs for the last 30 days
W-2 forms for the last two years
Child support/alimony - Child support agreement and/or divorce decree and/or 12 months
Award letter/1099 for social security, pension and disability

IF YOU ARE SELF-EMPLOYED
Signed, completed tax returns for the past two years, including personal, partnership, and corporate, if applicable, including all schedules.
Year-to-date business profit and loss statement for current year, if more than three months have passed since the end of the tax year
Current balance sheet
ASSETS: SOURCES OF FUNDS/DOWN PAYMENT
Original bank statements for the last three months, including savings, checking, and investment accounts
Stocks and securities account statements for the last three months
Closing Disclosure or Listing Agreement if using funds from the sale of property
Sale of asset – proof of ownership, proof of sale, and proof of funds transfer
For gift funds – a gift letter, evidence of transfer, and sometimes evidence of withdrawal
PAYMENT HISTORY
Cancelled rent or mortgage payment checks for the past 12 months, if not available on credit report
Copy of land contract, if applicable
Child support/alimony
Bankruptcy/Consumer Credit, if applicable
ADDITIONAL INFORMATION, IF APPLICABLE
Purchase agreement, including legal property descriptions and any addendum
Explanation of discrepancies on credit
After You've Applied
I've Submitted My Application- Now What?
Once you've submitted your home loan application, it's important to understand what to expect along the way. Your PNC Mortgage Loan Officer and home lending team will assist you from application through the closing process.
Here's the steps you will go through:
Step 1: Loan application Submitted
Step 2: Loan Estimate and Intent to Proceed
Step 3: Submitting Documentation
Step 4: Loan Decision
Step 5: Final Approval
Step 6: Closing
For a more detailed version of these steps, please check out the Application Through Closing article.
Calculate: Estimating Closing Costs
Making Your Payments
| Payment Methods | Main Details | How Does It Work? | Cost |
| --- | --- | --- | --- |
| PNC Online Banking | Pay your mortgage online using PNC Online Banking. It's free, secure and easy to use. | With the Transfer Funds feature you can schedule payments from PNC accounts or accounts at other banks. Or use Online Bill Payment to set up a payment from a PNC checking account. | Free |
| Electronic Funds Transfer | Pay your mortgage using Electronic Funds Transfer (EFT) from any account, including accounts at other banks. | Schedule recurring monthly payments with EFT and stop worrying about missing deadlines. | Free |
| SpeedPay | Pay your mortgage using SpeedPay from any account, including accounts at other banks. | By logging into your account online or calling PNC Mortgage, you can make an immediate payment. | $7 or free from a PNC account[2] |
| Mail Your Payment | Paying by mail | You'll need to write your loan number on the appropriate documents and mail them. | Free |
| In-Branch Payment | Paying in branch | Payment is accepted in the PNC bank branch during normal branch hours and is effective as of the date payment is made, although it may take up to 2 business days for the payment to be reflected on your account. | Free |
| Bi-Weekly Draft | Helps you pay off your loan faster and reduce the total interest you will pay on your mortgage. | A draft in the amount of half of your monthly payment is made every 2 weeks and held in escrow. A payment is applied after there are sufficient funds to make a complete payment, resulting in 13 payments being made in a year. | Free |
Need more information? From first mortgage to home equity, from setting up your online account to payment processing – explore the Understanding Home Lending Center to find the answers you need.
Ready to Apply? Let's Talk
Discuss your preferences, learn more about your loan options, and see if you are pre-qualified.
Online:
Provide some preliminary information to begin the pre-approval or loan process today!
With a Loan Officer:
We are available at branches nationwide to discuss your preferences, learn about your loan options, and see if you're pre-qualified.
Applying with PNC
Mortgage Made Easy
Getting a mortgage doesn't have to be intimidating. Find out how the process works, from getting prepared to closing.
Have questions? Want to learn more?
Important Legal Disclosures and Information
All SpeedPay transactions will require a $7 transaction fee, unless payments are made from PNC Bank accounts or are otherwise restricted by state law.
PNC, PNC HomeHQ, PNC Home Insight, and Home Insight are registered service marks of The PNC Financial Services Group, Inc. ("PNC"). PNC has pending patent applications directed at various features and functions of Home Insight Planner. All loans are provided by PNC Bank, National Association, a subsidiary of PNC, and are subject to credit approval and property appraisal.
For Adjustable Rate Mortgages loans ("ARMs"), rates may increase after settlement.
The PNC Financial Services Group, Inc. All rights reserved. PNC Bank, National Association. Member FDIC