Toggle nav
Login
Sign on to Online Banking
---
Personal and Small Business:
---
Personal and Small Business:
---
Corporate and Institutional:
A Team Approach Centered Around You
PNC Wealth Management
Call Now
M-F: 7am to 10pm ET
Sat & Sun: 8am to 5pm ET

Let's Talk
Fill out this simple form and we will get in touch with you.
Customizing Services Based on Your Unique Needs
Having access to a team of financial professionals is the foundation. At PNC Wealth Management, our team starts by learning about what matters most to you.
We listen carefully to concerns about your money and offer a broad range of services based on a comprehensive financial plan customized for you to achieve and maintain financial success.
Through our ongoing approach and open dialogue, we can help you find solutions that address your unique financial goals and objectives. Your client team will also work closely with your attorney, accountant, and your other providers as needed.
&nbsp
&nbsp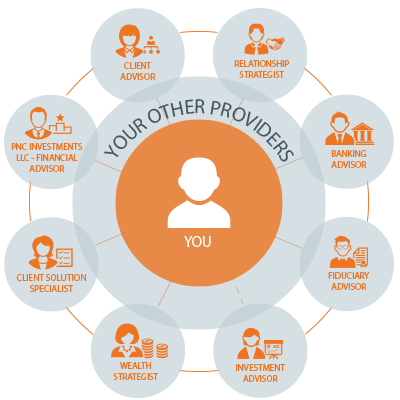 Client Advisor helps you navigate through the solutions available to you from PNC Asset Management Group and customizes a client team that best aligns with your needs.
Relationship Strategist helps assess your need for services and strives to deliver an exceptional client experience through timely insight and information, and by facilitating client review conversations.
Banking Advisor provides you with access to a broad range of PNC banking services, including deposit services, home equity loans, mortgages, credit cards, lines of credit, specialized lending, and online banking capabilities.
Fiduciary Advisor administers your investment agency agreement or trust and will explain the use of trusts in wealth planning, asset protection, and charitable giving.
Investment Advisor develops a customized PNC Integrated Approach® strategy that focuses on your short- and long-term goals, constructs and manages your portfolio, and provides guidance at regular meetings to review your asset allocation in person and/or by using PNC Wealth Insight®.
Wealth Strategist provides consultation on wealth planning topics such as family wealth transfer planning, retirement planning, education planning, risk management & insurance, charitable giving, business succession planning, planning for corporate executives, stock options & executive compensation, and planning for the modern family.
Client Solution Specialist is an additional point of contact on your client team who can work with you on your needs, so that we can help you meet your goals and objectives.
PNC Investments LLC Financial Advisor can help you and your family achieve your financial goals with an array of securities and insurance products and services.
Learn more about PNC Investments »
Important Legal Disclosures & Information
The PNC Financial Services Group, Inc. ("PNC") uses the marketing name PNC Wealth Management® to provide investment and wealth management, fiduciary services, FDIC-insured banking products and services, and lending of funds through its subsidiary, PNC Bank, National Association ("PNC Bank"), which is a Member FDIC, and to provide specific fiduciary and agency services through its subsidiary, PNC Delaware Trust Company or PNC Ohio Trust Company. Securities products, brokerage services, and managed account advisory services are offered by PNC Investments LLC, a registered broker-dealer and a registered investment adviser and member of FINRA and SIPC. Insurance products may be provided through PNC Insurance Services, LLC, a licensed insurance agency affiliate of PNC, or through licensed insurance agencies that are not affiliated with PNC; in either case a licensed insurance affiliate may receive compensation if you choose to purchase insurance through these programs. A decision to purchase insurance will not affect the cost or availability of other products or services from PNC or its affiliates. PNC does not provide legal, tax, or accounting advice unless, with respect to tax advice, PNC Bank has entered into a written tax services agreement. PNC does not provide services in any jurisdiction in which it is not authorized to conduct business. PNC Bank is not registered as a municipal advisor under the Dodd-Frank Wall Street Reform and Consumer Protection Act ("Act"). Investment management and related products and services provided to a "municipal entity" or "obligated person" regarding "proceeds of municipal securities" (as such terms are defined in the Act) will be provided by PNC Capital Advisors, LLC, a wholly-owned subsidiary of PNC Bank and SEC registered investment adviser.
"PNC Wealth Management" and "PNC Wealth Insight" are registered service marks of The PNC Financial Services Group, Inc.
Important Information about Procedures for Opening a New Account
To help the government fight the funding of terrorism and money laundering activities, Federal law requires all financial institutions to obtain, verify, and record information that identifies each person who opens an account.
What this means for you: When you open an account, we are required by Federal law to ask for your name, street address, date of birth (for natural persons) and other information as required to identify you. This may include a request or requests for confirmatory information such as presentation of your driver's license and/or other document(s).
Investments: Not FDIC Insured. No Bank Guarantee. May Lose Value.
Insurance: Not FDIC Insured. No Bank or Federal Government Guarantee. Not a Deposit. May Lose Value.
GET IN TOUCH

Stay Connected

Join Us

Be part of our inclusive culture that strives for excellence and rewards talent.

Visit PNC Careers »
The PNC Financial Services Group, Inc. All rights reserved.