Toggle nav
Login
Sign on to Online Banking
---
Personal and Small Business:
---
Personal and Small Business:
---
Corporate and Institutional:
Welcome to PNC Bank!
If you've just opened a new PNC business checking account, or you are doing online research about PNC business checking accounts before making your choice, then you'll want to know about our Quick Switch Kit. It's a resource we offer to our new customers to help make switching your business checking account, and other related business activity like direct deposits or automatic payments, as seamless as possible.
When you start banking with PNC, depending on your prior business checking account activities, you'll need to notify your service providers and other financial institutions of your new account so they can continue the arrangements you have set up with them in the past.
Remember, a PNC banker is available to help if you have questions at 877-BUS-BNKG (877-287-2654).
Download Our PNC Quick Switch Kit
It's really not hard to do. And we're here to help you make it as easily as possible. Our Quick Switch Kit is a downloadable pdf with instructions, suggestions for who to notify, tips to improve the process, and even provides letter templates you can fill in with your new banking details and mail out to your service providers.
Your Switch Kit includes:

5 Easy Steps: Switching to your new PNC business checking account
Switching Worksheet
Switching Forms

Request to Cancel an Automatic Payment
Request to Switch an Automatic Payment
Financial Services Partner Notification
Account Closing Request

Transition Checklist
Please note:
PNC cannot guarantee that these forms will be accepted in every instance. Your old bank, and/or your key financial services partners, may require you to make any or all of these requests in person or by some other method than by mail. Also, they may require more or different information than is contained on the letter templates that follow.
---
Just 5 Easy Steps
Follow these easy steps to complete your transfer to PNC Bank.
Step 1: Begin Using Your New PNC Business Checking Account
Now that you've opened your new account, it's time to get started on the basics!
Online banking access is a great place to begin, and business customers are automatically mailed a User ID mailer and PIN upon opening a new account.
To get started in Online Banking: Visit pnc.com/smallbusiness and click the Enroll In Online Banking link, located in the Sign on to Online Banking section at the top right of the page.
Tip:
You will need to enter your Federal Tax Identification Number, Four-Digit PIN (from the mailer) and your new PNC Account Number to complete the enrollment process.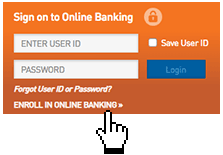 Step 2: Discontinue use of your old business account
Keep your old account open and appropriately funded until
all outstanding checks have cleared and all of your automatic
payments and transactions have switched over to your new
PNC Bank account.
Tip:
Remember to securely dispose of (shred) your remaining inventory of unused checks and deposit slips and destroy your ATM and debit cards. This will help reduce the risk of accidental use of your old account.
Step 3: Switch your recurring payment activity
Automatic payments (typically ACH transactions) are a convenient way to receive and send funds, and you'll need to redirect them to/from your new PNC account.
Incoming deposits (credits) - Compile a list of the vendors and merchants who send you automatic payments, and notify them of your new PNC Bank account information.
Outgoing payments (debits) - Payments such as utility bills, vendor payments or subscription services that are automatically debited from your account will need to be updated to reflect your new account information.

Complete this Step within 30 days
to help minimize interruptions.

Tip:
Use the worksheet on page 3 of the Kit to ensure that you haven't forgotten anyone! If you'd like to send written notice, a Request to Switch an Automatic Payment form is on page 7 of the Kit.

Tip:
Be sure to have the following information on hand when adding payees within Online Banking as these following fields are typically required: biller name, billing address, phone number, and your account number as it appears on your bill.
Step 4: Notify your key professional service providers
Inform your key consultants — accountant, bookkeeper, attorney, insurance agent, etc. — of your switch to PNC, providing information about the account as appropriate for their needs.

Complete this Step within 30 days
to help minimize interruptions.
Tip:
Don't forget about other financial services providers. Let your payroll processor, merchant services provider and other financial services partners know that you've switched to PNC! A Financial Services Partner Notification form is included on page 8 of the Kit.
Step 5: Close your old business account
Once all of your checks have cleared, and all automatic payments and direct deposits are successfully being deducted or credited from/to your new PNC Bank account, it's now time to close your old account.
Tip:
The Account Closing Request form on page 9 of the Kit makes it easy to notify your previous bank.
Associated Products & Services
Important Legal Disclosures and Information
Banking products and services and bank deposit products are provided by PNC Bank, National Association (N.A.), a wholly-owned subsidiary of The PNC Financial Services Group, Inc. and Member FDIC.