Toggle nav
Login
Sign on to Online Banking
---
Personal and Small Business:
---
Personal and Small Business:
---
Corporate and Institutional:
Mobile Deposit
Safe. Secure. Convenient. 
With PNC's mobile banking apps[1], you can securely deposit checks and access funds using your tablet or mobile phone.
Get Started

Enroll in Online Banking to take advantage of mobile banking
Already Enrolled?
Download one of our mobile apps to start using mobile deposit
Deposit Checks with your Smartphone
PNC customers deposit on average over 1 million checks per month[2] using their mobile devices!
See how easily you can deposit a check right from your smartphone — quickly, conveniently, and securely with mobile deposit and our mobile banking apps.
With our standard funds availability, deposits completed before 10 p.m. ET on a business day will be available the next day at no charge[3].
How to Access Your Money Faster with PNC Express Funds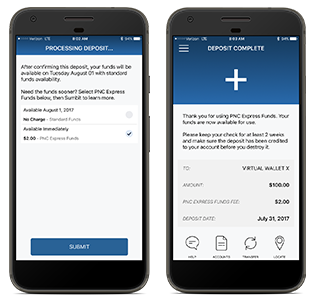 When you deposit an approved check from your mobile phone or a PNC DepositEasy℠ ATM, PNC Express Funds gives you the option, for a fee, to make the full amount available immediately for withdrawals and purchases.[4]
PNC Express Funds is convenient when:
You want the peace of mind that the money will be available right away

A bill is due

You need access to your deposited check funds immediately
What are some tips for making a Mobile Deposit?
Ensure that the surface contrasts with the color of the check. A solid dark background against a white/light colored check works best.
Make sure that you have ample lighting and avoid using the flash on your camera. If the camera is triggering the flash, then you need more light. Also, be careful of any shadows being casted on the check if using lighting from directly overhead.
Ensure that your camera lens is clean. Clean your camera lens with a soft cloth and some glass cleaner. Pocket lint and dust can build up on camera lens which can degrade photo quality.
Once deposited, keep your check in a secure area for at least 2 weeks to ensure that your deposit has been credited to your account. Once you confirm it has been deposited, destroy the check.
What do I do if my mobile deposit didn't go through?
If your check didn't go through, or you're unable to deposit it through the app for some reason, you will need to deposit the check at your nearest PNC branch or ATM.
How do I properly endorse a check for Mobile Deposit?
To properly endorse a check for Mobile Deposit simply sign your name and put "For PNC Mobile Deposit Only" below your signature on the back of the check.
Are there transaction and monthly limits for Mobile Deposit?
There are daily and monthly deposit limits that apply to Mobile Deposits. To view these limits, log into the Mobile Banking App and select "Check Deposit" from the main menu.
Important Legal Disclosures and Information
PNC does not charge a fee for Mobile Banking. However, third party message and data rates may apply. These include fees your wireless carrier may charge you for data usage and text messaging services. Check with your wireless carrier for details regarding your specific wireless plan and any data usage or text messaging charges that may apply. Also, a supported mobile device is needed to use the Mobile Banking App. Mobile Deposit is a feature of PNC Mobile Banking. Use of the Mobile Deposit feature requires a supported camera-equipped device and you must download a PNC mobile banking app. Eligible PNC Bank account and PNC Bank Online Banking required. Certain other restrictions apply. See the mobile banking terms and conditions in the PNC Online Banking Service Agreement.

Average monthly usage determined as of 3/31/17.

See the PNC Funds Availability Policy for certain exceptions and details. All deposits are subject to verification and may be adjusted upon review.

Only available at PNC DepositEasy℠ ATMs

After capturing your check images, if the check qualifies, we will offer the choice between standard funds availability at no charge or PNC Express Funds for a fee.

Approved checks are eligible for immediate availability on withdrawals and/or purchases for a fee of 2% of the total check amount. A $2.00 minimum fee will apply.

If a check is returned due to insufficient funds, PNC will not debit your account.

If your deposit is completed before 10 p.m. ET on a business day, your funds will also be available to pay checks or items during nightly processing. If your deposit is completed after 10 p.m. ET, your funds will be available to pay checks or items presented on the next business day.

Note: With standard funds availability (no charge), checks drawn on PNC will be available the evening of your deposit to pay checks or items presented that evening for posting if your deposit is completed by 10 p.m. ET.
PNC DepositEasy is a service mark of The PNC Financial Services Group, Inc.