Credit Card Center
for Students
One Stop for All Things Credit Card
Learn about the advantages of using credit cards responsibly, as well as the many benefits and features that come standard with our credit cards.
Ready to Get Started
No matter what you're looking for in a credit card, we've got you covered.
Whether you're just beginning to explore credit, or already have a credit card, PNC is here to help you start – and stay on – the right financial path.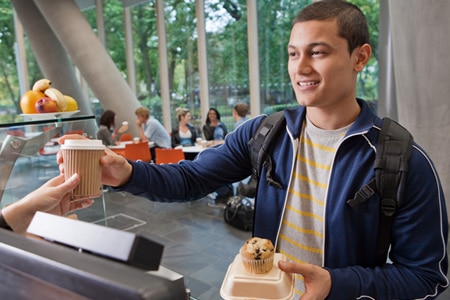 Use credit cards the right way – and get off to a great financial start
When used in a smart way, credit cards can help you establish a solid credit history. And that can really come in handy down the road. Specifically, an established credit history can help with things like:
Getting approved for a car loan
Buying a house
Finding a job
Starting a business
Credit Tips & Tools
Important information, tips and insights that will help you to better understand and manage your credit wisely.
Spend
Easy ways to develop good credit habits and start building a credit history as well, without getting yourself into trouble.
Borrow
Credit scores. We all have one. And most of us know a few things about credit scores, like the fact that they're important.
Spend
Once you turn 18, you will be eligible to build credit. First, you must have a source of income. The next steps can make or break your credit score.
Terms You Need to Know
Annual percentage rate (APR) Your APR is a standard calculation that permits you to compare the cost of credit among different lenders. It is a calculation of the actual yearly cost of funds over the term of a loan.
Billing cycle A "billing cycle" means the days covered by a Statement. Typically, a billing cycle will be 30 or 31 days, but can change from month to month. We tell you on your Statement the number of days in the billing cycle covered by the Statement as well as the Statement period end date (closing date) of that billing cycle.
Credit history A record of all your borrowing and repayment activity. Your credit history includes a record of your on-time payments, how long your accounts have been open, and any negative marks, such as unpaid accounts that have gone to a collections agency.
Credit limit This is the maximum amount of credit we have established for your account. As part of your total credit limit, we have established a separate cash advance limit. We have no obligation to authorize any transaction that may put you over your credit limit or cash advance limit but may do so at our discretion. If we do authorize a transaction that will put you over your credit limit or cash advance limit, you will be responsible for paying those transactions. Exceeding your credit limit can lower your credit score.
Credit score A three-digit number that summarizes how well you handle debt. The higher the number, the better. It's important to point out that if you are just starting out financially, you may not have established enough of a credit history to have a credit score available.
Minimum payment This is the amount you must pay on your account by your due date. We will tell you your minimum payment each month on your statement. This amount may change from month to month.
What to Expect When You Apply
Applying is easy, secure and takes less than 5 minutes. Usually we send a response immediately; however, some applications may take additional time to review.
If we approve your application, look for your credit card to arrive within 4-10 days. Be sure to watch for your credit card's arrival. Your credit card will be delivered in a plain white envelope (no PNC logo), and will be addressed to you.
Activate your credit card as soon as it arrives. Once you activate, your credit card is ready to use to make purchases[1] online, in-store or anywhere else Visa credit cards are accepted.
Your Credit Score: What it is and Why it Matters
What is Your Credit Score?
Your credit score is a three-digit number that is based on detailed information from your credit history. The higher the number, the better. It's important to point out that if you are just starting out financially, you may not have established enough of a credit history to have a credit score available. Various organizations provide different credit scores, but the most widely used is the FICO® Score (which PNC cardholders can access at no charge). FICO® Scores range from 300 to 850 – scores of 670 to 739 are considered "good", scores of 740 to 799 are considered "very good" and scores of 800 or higher are considered "exceptional."
Why Does Your Credit Score Matter?
Your credit score can play an important role in your financial future. It can significantly impact things like whether you are able to get approved for a mortgage, and how much interest you pay for car loans, leases, home loans, etc.
Tips for Using Credit Wisely … and What to Avoid
DO:
Pay your bill in full each month, if possible – Paying your credit card bill in full each month can reduce the amount of interest you pay, or even eliminate interest charges altogether.


Create a spending budget – Having a clear picture of what your expenses are in relation to your monthly income, will help you establish responsible spending habits.


Pick your payment due date – Pick a date that you'll remember for added convenience, or one that aligns with when you get paid (if applicable).


Take advantage of your credit card's benefits – Many cardholders don't realize that their credit cards include a host of valuable benefits that can help in everyday life.
DON'T:
Just pick any credit card – Consider things like reward types and APRs to figure out what credit card fits your life best.


Only make the minimum payment – Paying only the minimum payment each month can be enticing, but you'll pay more interest and it will take you longer to pay your balances in full.


Miss your payments – 35% of your FICO® Score is determined by your payment history. Even if it means that you only pay the minimum payment for the month late, it's always a better idea than skipping a payment entirely.


Spend too much of your available credit limit – Try not to spend more than 30% of your available credit limit. Coming too close to your credit limit could negatively impact your credit score.
We provide smart, secure online tools that empower you to take control of your money – day or night, across any device.
PNC Online Banking makes it easy to set up your account for success. It's the free, secure way to stay connected to your account 24/7.

If you have a Virtual Wallet Student account, you can seamlessly add your PNC credit card to your Calendar, see your transactions automatically sorted in Spending + Budgets, and manage your credit card on the go with our mobile app[2].
On-time payments can help you establish a solid credit history. And automatic payments make paying on time a breeze. Set it up once and you're done. But always be sure to review your statement every month and let us know if you think there is an unauthorized transaction or you believe there is a mistake on your statement.
For extra convenience, PNC lets you select when your payment is due. Simply choose a date that works best for your schedule and budget.
As a PNC cardholder, you can check your FICO® Score online as often as you'd like within PNC Online Banking. There's no charge, and you'll also learn about 2 key factors that have impacted your score.
Set up PNC Alerts and we'll text[2] or email you about important credit card activity – like when your payment is due, or each time a transaction posts to your account.

Look forward to exceptional service and a convenient, secure way to pay – included with every PNC credit card.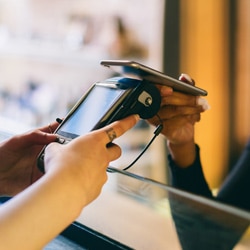 As a PNC cardholder, you can use your mobile device[2] to simplify the way you pay for things at stores – it's easy to set up and easy to use.
Shopping Online? Use Visa Checkout
Ditch the hassle of re-entering payment and shipment information at your favorite online stores.
Learn more about Digital Payments »
Our Highest Level of Security Comes Standard
Here are just a few of the ways you're protected:
Zero Liability Fraud Protection – You're 100% protected against verified unauthorized purchases due to fraud or identity theft[3]
Security Alerts – We'll notify you right away via text or email if we detect fraudulent or suspicious activity
Count on 24/7 U.S.-based service
Our highly trained credit card specialists are standing by around the clock, ready to serve you.

Find the Right Credit Card For You
If you're ready to apply for a credit card, we have three great options. Each one comes with all of the benefits and features listed above – including access to your FICO® Score at no charge.
Get Cash Back[4]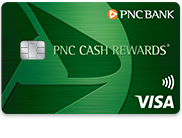 4% cash back on gas station purchases
3% cash back on dining purchases at restaurants
2% cash back on grocery store purchases
1% cash back on all other purchases
No annual fee
Earn Rewards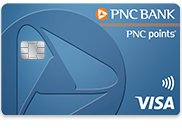 4 points per $1 spent on everyday purchases[1]
Redeem for thousands of rewards, including gift cards, tablets and phones, electronics and accessories
No annual fee
Lower Rates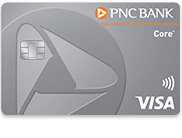 Our LOWEST intro rate on purchases[1] for the first 15 billing cycles
Our LOWEST intro rate on balance transfers for the first 15 billing cycles
No annual fee
Important Legal Disclosures & Information
The term "purchases" does not mean every transaction you make with your credit card. Some limited transactions, such as cash advance transactions (including the purchase of cash equivalent products) and balance transfers are excluded.

PNC does not charge a fee for Mobile Banking. However, third party message and data rates may apply. These include fees your wireless carrier may charge you for data usage and text messaging services. Check with your wireless carrier for details regarding your specific wireless plan and any data usage or text messaging charges that may apply. Also, a supported mobile device is needed to use the Mobile Banking App. Mobile Deposit is a feature of PNC Mobile Banking. Use of the Mobile Deposit feature requires a supported camera-equipped device and you must download a PNC mobile banking app. Eligible PNC Bank account and PNC Bank Online Banking required. Certain other restrictions apply. See the mobile banking terms and conditions in the PNC Online Banking Service Agreement.

Zero Liability Fraud Protection does not apply to ATM transactions or PIN transactions not processed by Visa, and certain commercial card transactions.  Notify PNC Bank immediately of any unauthorized use.  For specific restrictions, limitations and other details regarding unauthorized use, see your account agreement.

You'll earn at least 1% cash back on purchases everywhere, every time. Earn 2% on grocery store purchases, 3% on dining purchases at restaurants and 4% on gas station purchases for the first $8,000 in combined purchases in these categories annually.
Pursuant to the Credit Card Accountability, Responsibility and Disclosure Act of 2009, the credit card agreements below were submitted to the Federal Reserve Board.  These agreements were effective as of June 30, 2017.  If you are applying for a credit card now, the terms of the account you are applying for may be different from those terms and conditions in the agreements posted below.
PNC Cash Rewards, PNC Premier Traveler, PNC Core, and PNC points are registered marks of The PNC Financial Services Group, Inc.
Visa and Visa Signature are registered trademarks of Visa International Service Association and used under license.

PNC Pay is a registered mark of The PNC Financial Services Group, Inc.
FICO is a registered trademark of Fair Isaac Corporation in the United States and other countries.
PNC Bank, National Association is the issuer of the PNC Bank credit cards described herein.

PNC Bank credit cards are subject to credit approval. 
Bank deposit products and services provided by PNC Bank, National Association. Member FDIC