Virtual Wallet Student®
for Student Banking with PNC
We deliver all the best tools for student banking, whether you're on or off campus, so banking is one less thing to worry about.
Student-Friendly Tools
Virtual Wallet Student gives you the resources you need to help you keep track of your money.
Find Your School
See what unique features & benefits are available at your college or university.
Key Features
Calendar
See your finances in one easy-to-read place.
Helps you track and pace your spending by categorizing your purchases.

Parents can receive the same account alerts as students when balances are low.
Virtual Wallet Student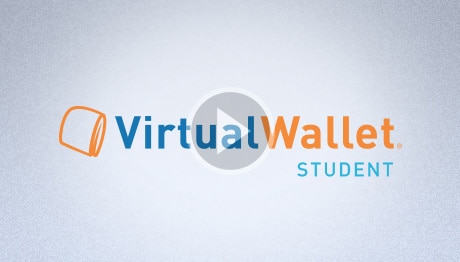 Excited about college?
Just think of it. The lectures. The tradition. The intellectual atmosphere. Oh and the, um…social life. To get the most out of all that excitement, you'll want to make the most of your money. Virtual Wallet Student helps manage life on campus, and your budget, with features that let you bank the way you want to.
Account Features & Benefits
Avoid the monthly service charge for Virtual Wallet Student with proof of active students status for six years.[1]
Free transactions at approximately 9,000 PNC ATMs[2] Find the one near you »
PNC Bank Visa® Debit Card.
Free Online[3] and Mobile[4] Banking so you can manage your money how and when you want to. Learn More »
International Services including language interpretation and international wire transfers. Learn More »
What Our Customers Have to Say

Listen to Brian's Story
PNC opened a branch on the Morgan State campus. Brian signed up for Virtual Wallet Student and hasn't looked back. His school-branded account fits in with his own sense of school pride: "I love to showcase my institution. It's like paraphernalia I don't have to pay for!"
Important Legal Disclosures and Information

Proof of active enrollment in an educational institution is required to receive a monthly service charge waiver. This waiver will expire 6 years after it is assigned to your account.

When depositing checks at an ATM, you may receive an offer to choose PNC ExpressFunds, an optional service that makes your funds available faster for certain purposes. There is a fee for this optional service. If you decline the offer, you will still be able to make your deposit without a fee.

Online Banking is free to customers with an eligible account; however there may be a fee for certain optional services. We reserve the right to decline or revoke access to Online Banking or any of its services. All online banking services are subject to and conditional upon adherence to the terms and conditions of the PNC Online Banking Service Agreement.

PNC does not charge a fee for the Mobile Banking service. However, a supported mobile device is needed to use Mobile Banking. Also, your wireless telecommunications provider may charge you for data usage. Check with your wireless telecommunications provider for details regarding your specific wireless plan and any data usage charges that may apply. PNC products, services and prices are subject to change.
Bank deposit products and services provided by PNC Bank, National Association. Member FDIC
Visa is a registered trademark of Visa International Service Association and used under license.