Key Steps to Getting Started
We understand unexpected events may impact your ability to make your mortgage payments. We're ready to help discuss how you can get back on track. First, let's review steps for applying for mortgage assistance if staying in your home is an option you're considering.
Please note the following program expiration dates:
The HAMP Program expires on 12/30/2016
The HAFA Program expires on 10/30/2016
STEP 1:
Call us at 1-800-523-8654 to discuss your situation. A PNC Representative is ready to assist you.
STEP 2:
Review our video on how to request mortgage assistance on your current home loan.
If you are unable to make your mortgage payments, but would like to stay in your home, we may be able to help. Take a look at our video to learn more.
STEP 3:
Review the Hardship Assistance Application.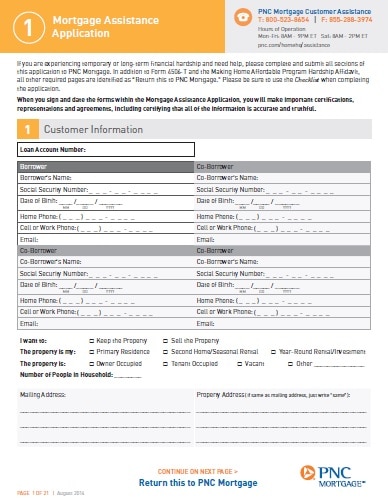 If applicable, your PNC Representative may advise you to:
Complete the PNC Hardship Assistance Application.
Submit your completed Hardship Assistance Application to us via fax and mail.
Supporting Documents
STEP 4:
If you're ready to start the application process, review our video on helpful tips for completing it.
If you want to complete the Mortgage Assistance Application to determine eligibility for a loan assistance option, check out our video covering tips on the application process.
STEP 5:
You've Submitted Your PNC Application.
PNC will review your application and verify all documents for completion*
PNC will determine your eligibility for a loan modification or other assistance options
PNC will complete the eligibility process within 30 days from the time we receive your complete application
After our review, you will receive a written determination letter offering you all loan assistance options for which you qualify
If you have any questions, please contact us at 1-800-523-8654.
*Provided we receive your application at least 38 days before a scheduled foreclosure sale.